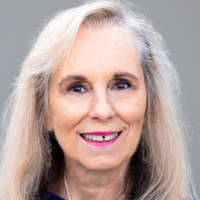 Ariann Thomas
Advice & How To, Religion & Spirituality
Profession

Author, Speaker, Healer, Teacher, Shaman
Ariann Thomas is an international healer, teacher, ceremonialist, speaker, Shaman, hypnotherapist, and an ordained non-denominational minister.

Ariann primarily carries the profound subtle energy of an elder, advisor and wisdom carrier. She is part Cherokee by heritage and her primary practice is Ancestral Lineage Clearing and Shamanic Journeying. She engages in energetic healing work having studied healing in the native traditions of North and South America.

She is the author of the Amazon best selling books: Healing Family Patterns: Ancestral Lineage Clearing for Personal Growth (2012) and Changing Our Genetic Heritage (2018) which focus on shifting traumatic generational family wounds.
Video
Thank Your Ancestors https://www.youtube.com/watch?v=r0oali8Zdcs
What a sense of security in an old book which time has criticized for us.
James Russell Lowell